By Bhawna
Schezwan Paneer is a delicious Indo-Chinese dish. It is a stir-fried dish. It is adapted from Sichuan cuisine. It originates from Sichuan Province in China. It has paneer sautéed in Schezwan sauce. It is very similar to Chili Paneer. Schezwan sauce is a versatile sauce that can be used in many Indo-Chinese dishes. This dish called Schezwan Paneer is easy to prepare. It can be prepared both in gravy and dry. The one which is prepared in gravy can be served with vegetable fried rice, Schezwan fried rice, and Veg Hakka noodles. The dry one can be served as a starter. Schezwan sauce is a bit spicy. Hence, this recipe is quite spicy. It is known for its bold flavors and pungent taste. This recipe is served medium hot. You can add a lesser amount of red and green chilies so that it tastes less spicy.
You can include Vegetable Manchurian in gravy. You can serve Hakka noodles with Schezwan paneer for starters. The flavors of the recipe burst in the mouth and it tastes awesome.
How is it different from Chili Paneer?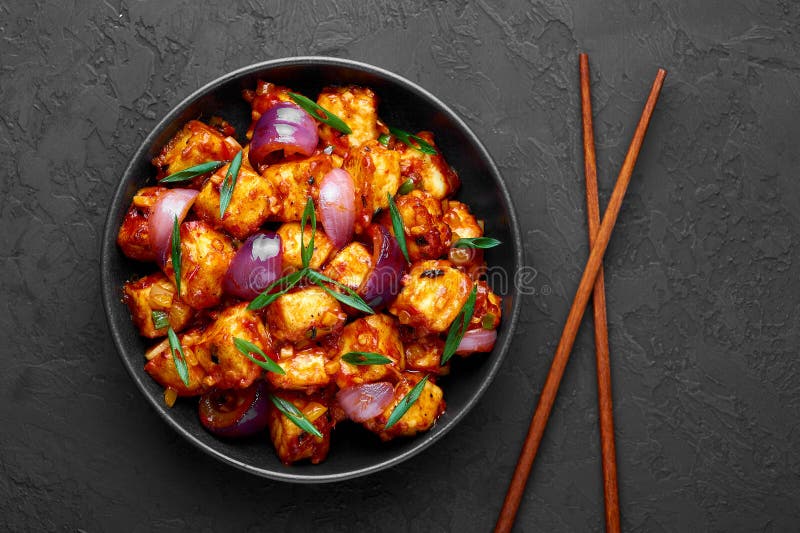 Image source: foodhubrestaurant.com
Schezwan Paneer is different from Chili Paneer. It has a different flavor profile. The paneer is made crisp. It is tossed in many spices. This gives it flavor and depth. It is a finger-licking dish.
Schezwan Sauce
Image source: pinterest.com
The Schezwan sauce provides saltiness and sweetness. It gives some acidness to the recipe. You can reduce the spice level by adding a milder chili or using lesser chilies. Schezwan sauce is a star of Indo-Chinese recipes. It is spicy and has bold flavors. There is a good use of garlic and chili.
It has a unique citrus taste. The taste is on the citrus side. It has a well-balanced taste of hot, pungent, tangy, and sweet. It is undoubtedly flavorsome. It is made with red chilies, garlic, ginger, and soy sauce. It is a versatile sauce. It is used in Indo-Chinese cuisines. It has a nutty flavor. You can add chili powder. It has a strong flavor.
Paneer
Image source:spicecravings.com
Paneer is an Indian cheese. It is soft. It is perfect for cooking. It can vary in texture. Fresh paneer has a soft texture. The paneer that is available in the market is drier and chewier. It is made by a process of curdling milk with lemon or curd or vinegar and then the curds are separated. The curds are compressed. It is then refrigerated. And the result is a block of paneer.
Paneer can be made at home. It is easy. It is softer than that available in the market.
If you are using a market paneer, you should soak it in boiling water. This is important so that it softens. It helps retain moisture. This will help the paneer to not become dry. You can cut the paneer into small cubes. Then place it in a large bowl. And cover it with boiling water. Allow the paneer to remain there for 10 minutes. Then drain the water.
Gravy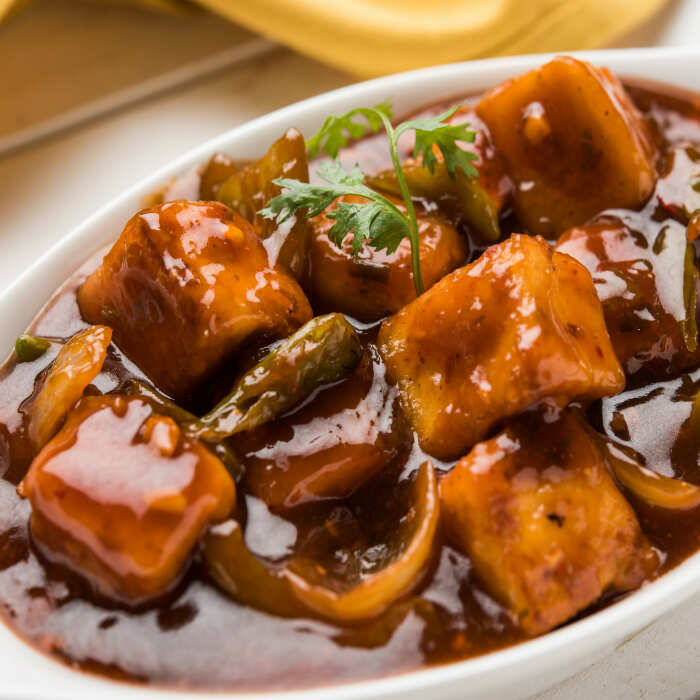 Image source: timesfood.com
The gravy is the star of the dish. Firstly, corn flour slurry is made. It is made by adding corn flour to water. Then all the vegetables are added. This is the corn flour slurry. Sesame oil or vegetable oil is added for gravy. Then green chilies and Schezwan sauce is added. Soy sauce is also used here. Black pepper powder is used. You can add water. You can add vegetable stock also. You can add sugar. You can add salt. Then corn flour slurry is added.
Tips and tricks
Image source: cookpad.com
It is good to fry the paneer cubes on medium heat. There are disadvantages to frying on high heat or low heat. If fried on high heat, the paneer cubes will be uncooked from the inside. If fried on low heat, they will absorb a lot of oil.
Kashmiri red chilies should be soaked in warm water. It enhances the color of the chilies. You should always add cold water to corn starch when you are making corn flour slurry. This is because it ensures that the slurry doesn't get lumps. Corn flour slurry gives better results if colder water is used. You can also keep a glass of water in the fridge. The corn flour gets dissolved better in cold water. It gives crispier results.
You can make the number of chilies to be used according to your taste. And also the variety of chilies that you want to use depends on you. Do not add too much water because the peppers should be crispy. You should have the right consistency batter. This is because it should coat the paneer. Adding water gradually is the key. The thickness should be double cream.
You can use sesame oil. It gives a nutty flavor. It gives a good aroma. However, you can use any vegetable oil.
Interestingly, you can make this with tofu too. You can replace the paneer with firm tofu like sprouted tofu. Tofu should not be soaked in water. It should be pressed to remove moisture. You can coat the tofu in oil and corn flour.
You can make it milder too. You can omit the very spicy red chilies. You can go for milder chilies. You can deseed them and then they would be milder.
Complementary dishes with Schezwan Paneer
Image source: youtube.com
The Schezwan Paneer can be paired with many dishes. You can serve it with naan, fried rice, or noodles. These can be veg fried rice, Schezwan fried rice, or Veg Hakka noodles. Paneer can be served as an appetizer.
Conclusion
Image source: shutterstock.com
Schezwan paneer is a great dish. It can be made easily at home. The star of the dish is the Schezwan sauce. It is a spicy dish. It can be made less spicy by adjusting the number of red chilies. It can be served with many complementary dishes like fried rice and noodles.