By Bhawna
Tofu Burgers is a different recipe packed with deliciousness. Tofu together with lemongrass, mint, cilantro, basil, spicy mayo, and some nice veggies can be a big treat. The king ingredient in this burger is the Tofu. You can add peppers, fresh cucumbers, and your favorite herbs. You can add sriracha, herbs, and lemongrass. You can add whatever fascinates you. It is up to you. Tofu burger is delicious. It is easy to make. It is marinated in a burger marinade.
Characteristics of Tofu Burger
Image source: lovingitvegan.com
Tofu Burger is softer than a regular burger. You can make a gluten free version. You can use a gluten free flour. You can add 1 tablespoon of sriracha in it. You can also add 2 or 3 tablespoons of sriracha. Then, it will be medium or high level spicy. You can make tofu burgers on the grill. One advantage of using a firm tofu is that the tofu burger doesn't fall apart. Hence, sprouted tofu can be used. And it is also essential to marinate overnight. The tofu would absorb moisture from the marinate when you cook on the grill. You can mix many spices to create the same texture, consistency, and even the flavors of a hamburger. Tofu burgers are free of meat products. This is an amazing vegetarian dish.
The best part of this burger is that it is customizable. With tofu burger patty as the base, you can make the ultimate tofu burger.
The right Tofu
Image source: vegetableandbutcher.com
Firstly, you need to choose the right tofu. As you may know, soft tofu is used for dips and sauces. Differently, extra-firm tofu is made for entrees. It can be baked, air-fried, or sautéed. For a tofu burger, you need a sprouted tofu as it is the firmest tofu. It doesn't require pressing. You don't need to press it.
It is important that a tofu patty keeps in shape as you grill it. It is also important that tofu takes all the flavors. So, for this we need a firm tofu. A firm tofu keeps in shape. It absorbs all the flavors. If you use soft tofu, then the shape won't be maintained. It will crumble when you cook it.
Tofu has high water content. So, the water should be removed. If it is not removed, then your burger will taste boring. With less water, tofu burgers retain their shape. The best way to remove water from tofu is to use a tofu press.
For Marinade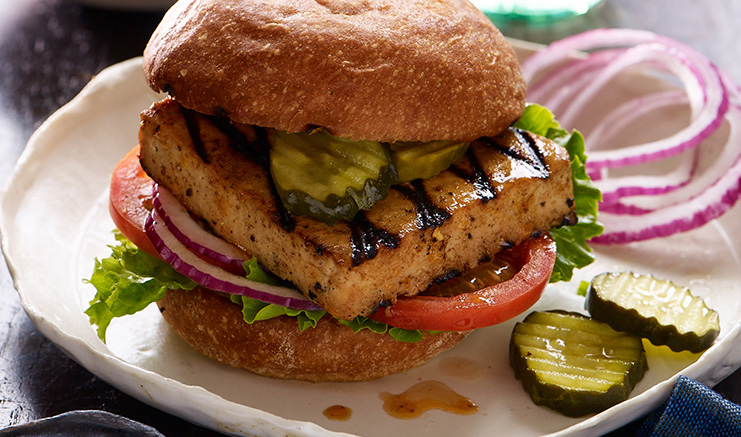 Image source: 101cookbooks.com
You need to make a marinate for tofu burger. You can choose a burger marinade. To make a burger marinade, you need soy sauce, liquid smoke, garlic, sriracha, and whole grain mustard. You can choose a regular or low sodium soy sauce. Liquid smoke is used a flavoring. You can use fresh minced garlic. You need to grind mustard to make a paste. Make sure that it completely breaks down all the mustard seeds and a thick mixture is made.
There are many marinade substitutes. You can choose smoked paprika. It is a spice made by drying peppers over oak burning fires for many weeks. It is a good substitute. You can use smoke tea. You can use chipotle powder. You can use sweet chili sauce or ketchup. It can replace sriracha in the recipe.
To get the best results, you can marinate tofu burgers overnight.
How to grill
Image source: grocery.coop.com
Preheat the grill at medium-low. Then put a grill mat or a grill pan. You can also place the tofu directly on the grill if you are that good. Then, you need to cook for 20 minutes. You need to flip every 5 minutes. Then, you need to remove the grill and serve with toppings.
Toppings
Image source: fitchen.com
You can top with BBQ coleslaw, cashew mayo, tomato, sliced cucumbers, pickled red onions, blackberry Dijon sauce, lettuce, raw onions, roasted red peppers, and BBQ sauce. These are some of the toppings. However, you can always add innovation and add what you like.
Taste of a Tofu Burger
Image source: lazycatkitchen.com
Tofu burger that has wheat, gluten, or soy tastes like a beef hamburger. The taste depends on the type of tofu and the toppings that you add. The taste is sweet and smokey. It is savory too.
Tofu Burgers are healthy
Image source: h-e-b.com
Tofu burgers are made with soybeans. Soybeans contain essential amino acids and proteins. They are the correct replacement for beef burgers. Tofu is naturally gluten-free. It is low in calories. It doesn't contain cholesterol. It is an excellent source of iron and calcium. It is a great source of protein. Tofu contains isoflavones such as phytoestrogens. They help you protect from cancers, heart disease, and osteoporosis.
Tofu is the result of coagulation of soymilk and creation of curds. Tofu burger is a healthy alternative to non-veg burgers. Tofu burgers make up a part of the protein food group. Tofu burgers are soy burgers. They provide fiber and protein. They also provide iron.
Tips and tricks
Image source: veganwithgusto.com
No matter what marinate you use, it is advised to marinate longer, like overnight, so that the tofu absorbs more flavor. You should choose a firm tofu like sprouted tofu. You can change the flavor of the tofu by using different tofu marinates. There are so many options. You can also wrap the burger in a collard green or Romaine lettuce leaf instead of bread. You can make some steak fries in the air fryer as a complementary dish. You can add French fries. These are the best. You can make healthy sweet potato wedges seasoned with paprika and cayenne powder. You can serve a green leafy salad too. You need to preheat the grill before adding the tofu burgers. You need to flip every 5 minutes. This should be done 4 times.
You should melt cheese slices on your burgers while you are grilling it. You can also add a slice to each patty when you flip for the last time. You can create a brioche bun for the best taste. You can add the sauces that you like. These can be BBQ sauce, or garlic mayo. You can add some grilled onions or onion rings.