Pesto Pasta is a flavorful pasta that has pesto sauce as the key ingredient. It is an Italian dish. Pesto is one of the most used pasta toppings in Italy. It has its origins in Liguria, in Genoa.
What is Pesto?
Pesto is the star of this dish. It is made up of basil, extra-virgin olive oil, parmesan cheese, pecorino cheese, pine nuts, garlic, and salt. These are ground in a mortar. It can be homemade or purchased from the market. The most traditional way to make pesto is by using a mortar. You can also use a blender or food processor as it makes the process easier.
The original way to make this sauce is by crushing a garlic clove in a mortar. When the garlic becomes smooth, basil is added with salt. The basil needs to be crushed against the walls of the mortar. This has to be done until the leaves are ground into a paste. Then, pine nuts are added. The grinding is done until everything gets smoother. The cheeses are added to make it creamy. At last, extra-virgin oil is sprinkled. Everything is mixed properly. And the result is a pesto sauce with an even consistency.
Pesto needs to be kept refrigerated in a closed container. The surface is covered in oil. This is done to prevent the oil from oxidizing.
What is unique about Pesto Sauce?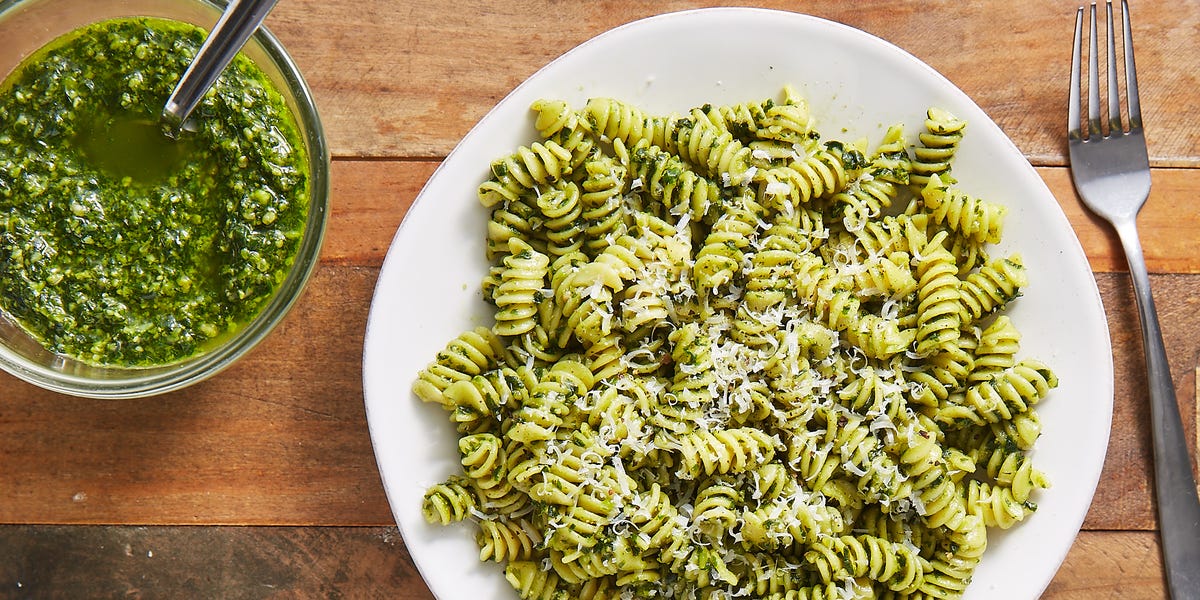 It is well-known that tomatoes are dominating the Italian market. There are plenty of sauces with tomato as a base. But there are many sauces in which tomato isn't used like pesto sauce. Pesto sauce is a green sauce. The best thing about pesto sauce is that it is bright and pungent. It has basil, olive oil, garlic, pine nuts, and Italian cheese. It is best known for its bright-green color and also for the fact that it isn't heated during preparation. It is coarse, another unique thing about it.
Some key steps in the making of Pesto Pasta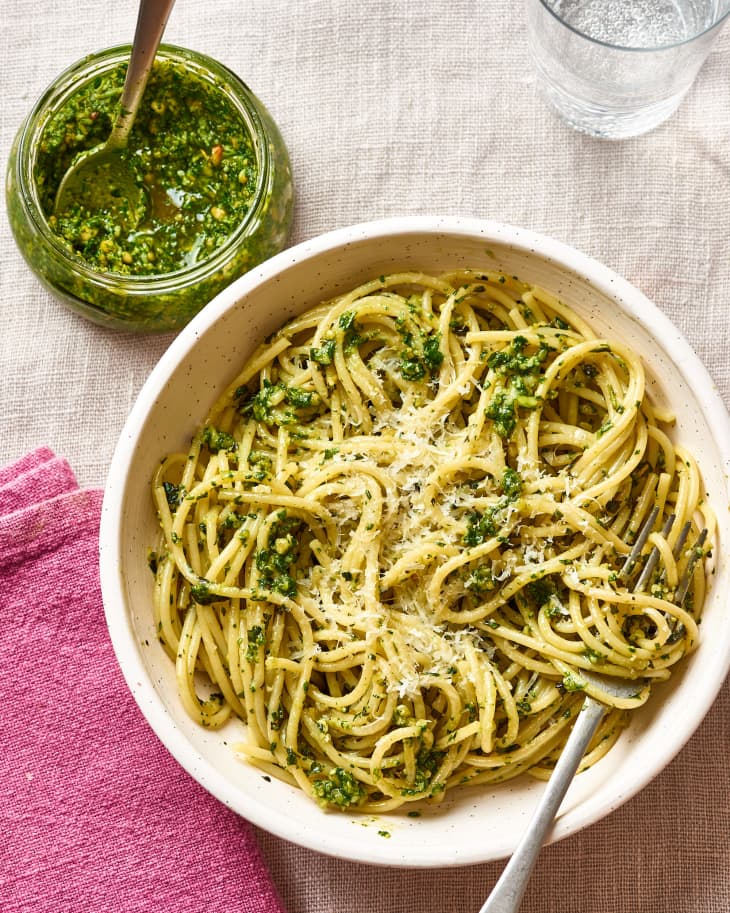 Firstly, you need to cook the pasta in salted water. You can make a pesto sauce at home by crushing garlic in a mortar and then grinding basil, pine nuts, and parmesan cheese. You need to make a paste out of these ingredients. After that, you need to drain the pasta. Keep some pasta water on side. Then add pesto sauce to the pasta and toss. Garnish with parmesan and pine nuts.
Tips and tricks
The most important thing is that you should use the best quality ingredients. Use fresh basil. Use real parmesan. Use good quality olive oil. Don't over-process the pesto. When you are boiling pasta, using salt is essential, or else the pasta would taste bland. Using pasta water is also very important. This is because it helps in binding and adds starchiness. This will also thin out the pesto. So, always keep reserving the pasta water.
You should toss it in a bowl and not the pot in which you cooked the pasta. This is because basil doesn't like heat. Do not reheat pasta if you are eating it later. This is because it makes black pesto.
You can a lot of oil to the pasta. This will give you smooth, creamy pasta. So, add a lot of oil. You can customize the texture of the pasta. When you are working with the pesto, you can stop when all the ingredients are finely ground. This will give you a rustic feel. Or, you can keep the process going until the ingredients are pureed. You can go either way.
You can use any of the nuts. You can use pine nuts, walnuts, or cashews. You can also freeze the pesto. This is something new. You can keep the pesto in the freezer for quick dinners.
Some recipe variations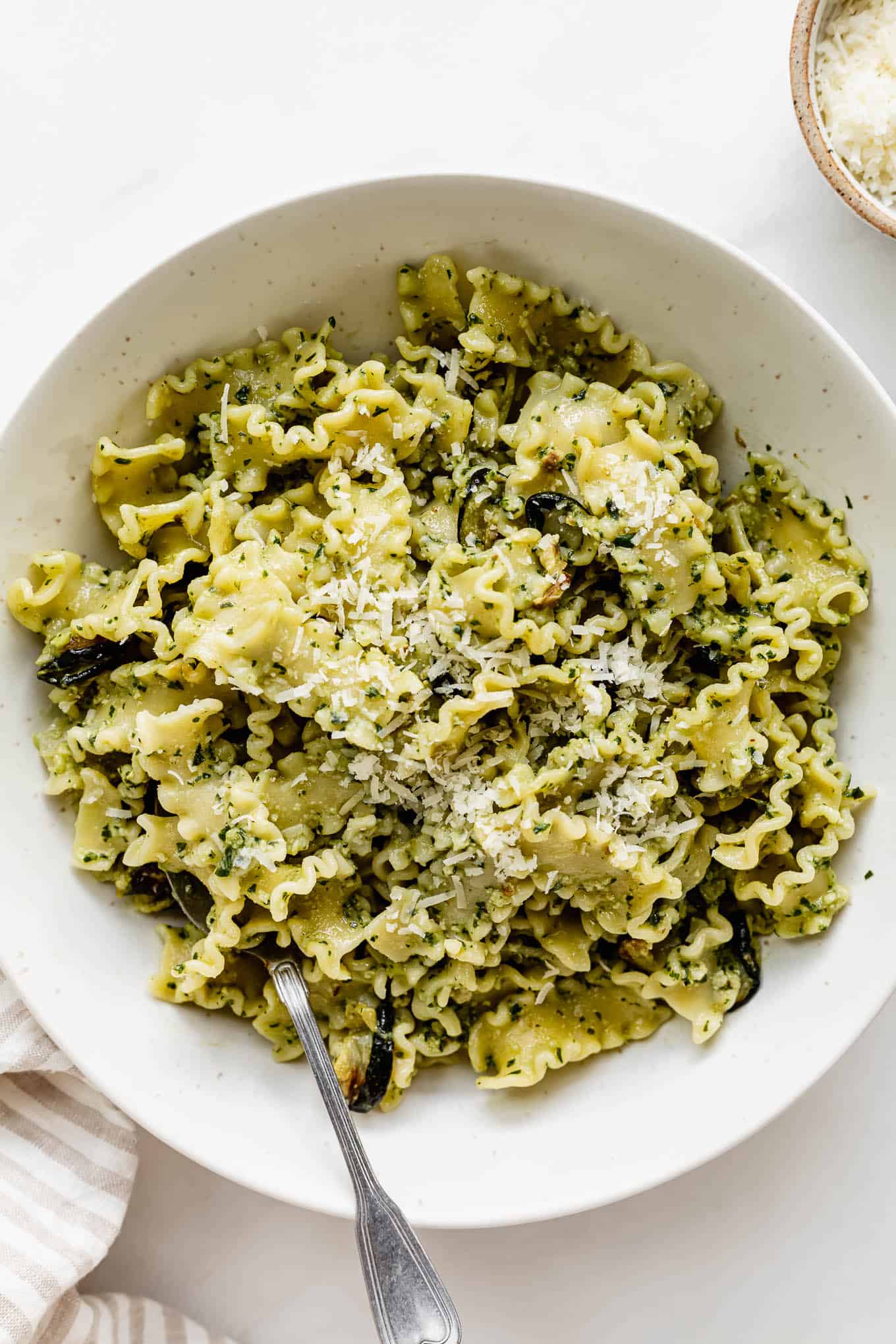 Image source: loveandlemons.com
You can add some roasted vegetables. You can toss them with the pasta. You can add fresh or roasted tomatoes. You can use fresh mozzarella pearls. You can use nuts like walnuts and almonds. Use can use different pasta varieties. These can be penne, farfelle, rotini, companelle, ziti, and orzo. You can also use ravioli. You can choose parsley pesto, kale pistachio pesto, or creamy cashew pea pesto.
Complementary dishes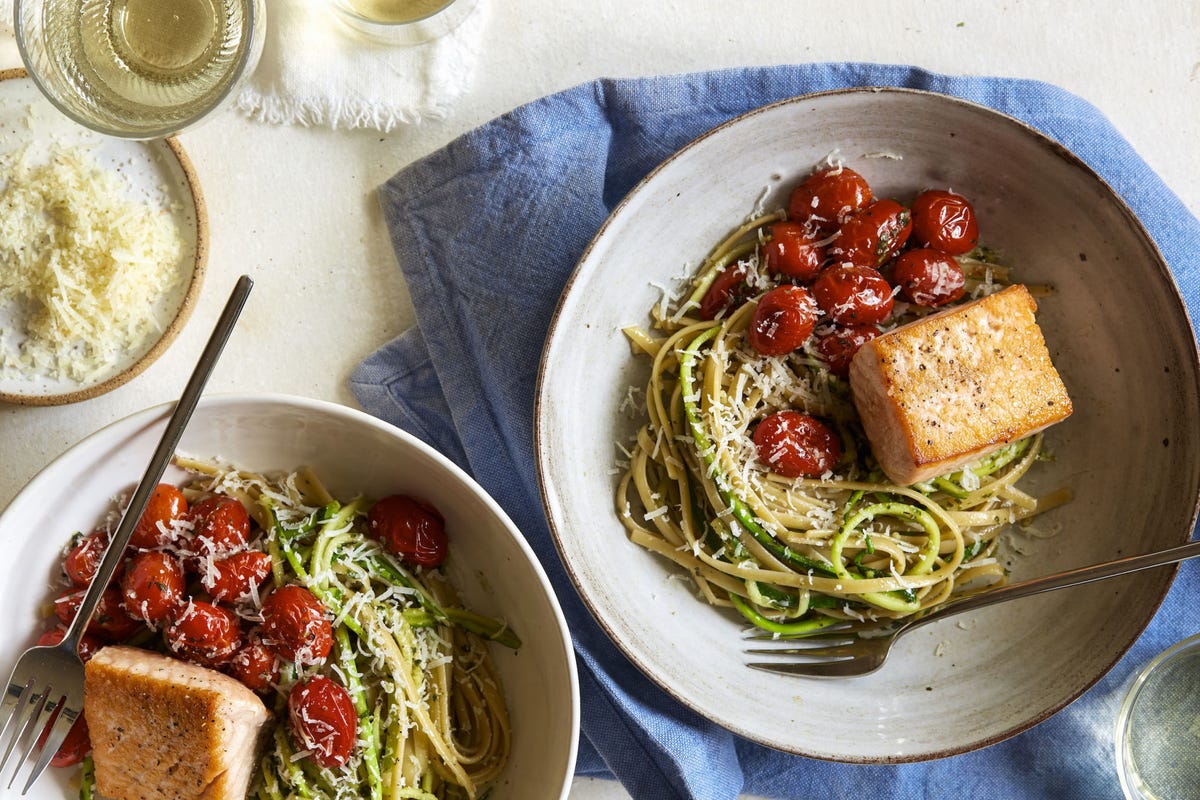 There are many dishes that you can serve on the side. These can be Caprese salad which is made from juicy tomatoes and balsamic glaze or any salad or steamed vegetables. These can be with Italian dressing or Balsamic dressing. You can add cherry tomatoes to the pasta. You can add some spinach.
The nutritional aspect of Pesto Pasta
Pesto is made from basil, pine nuts, garlic, olive oil, and Italian cheese. It is flavorful. Pesto is higher in calories as compared to other sauces. But it is also super-healthy. It is because of the ingredients like basil, olive oil, and nuts. So, by these ingredients, it is a fun way to add flavor. You can add vegetables to it and make it more nutritious. Making pesto sauce at home is better than purchasing it from the market.
Pesto is also full of antioxidants. Also, it reduces the risk of aging, heart disease, cancer, and other diseases. Pesto is a source of calcium. It has healthy fats. It has cardiovascular benefits. It helps lower cholesterol levels. It is good for skin health. It can help in weight management.
Vegan Pesto Pasta
One should keep exploring new flavors and recipes. Pesto Pasta is such a flavorful dish that can be customized. It is a meal in itself.
You can choose a vegan option for pesto pasta too if you want to explore new flavors. For making a vegan pesto pasta, you would need vegan parmesan cheese and vegan heavy cream. You can also add walnuts to it. You can add tomatoes and lime juice.
Conclusion
So, Pesto Pasta is a great dish. Pesto sauce is the star ingredient in it. You can make it at home or purchase it from the market. Pesto Pasta is super-healthy. There are many variations of pesto pasta. You can always experiment and add new flavors. You can serve any salad along with pesto pasta.
By Bhawna